Deep-Fried Coke
When I heard about Deep-Fried Coke for the first time, I knew it was something I would have to try one day. Invented for the Texas State Fair in 2006, Deep Fried Coke is a funnel-cake made with Coca-Cola instead of water. After cooking, the cake is covered with whipped-cream, Coke syrup and cherries. I know that this is really low-brow, but all the frying on Chanuka brings it out of me. At least I wasn't deep-frying Oreos!
A google-search provided me with a recipe for the fried confection. I didn't have a source of Coke syrup, so I cheated and purchased a bottle of Cola syrup for the Soda Club machine. I imagine it must taste pretty similar. I was using authentic Coke Classic in my batter, so I think it balanced out.
I quickly discovered that making funnel-cakes isn't as easy as it sounds. That, or my recipe wasn't that great. Each time I tried to fry up a batch, I ended up with strands and crumbles of dough. Not that they tasted bad, mind you – just not as photogenic as I was hoping for. (Later research turned up articles that suggested that the recipes out there aren't the authentic one. Support for this comes from this article, in which deep-fried Coke looks like doughnut-holes, rather than funnel-cakes. Maybe I'll find a new recipe for next year.)
The fried dough alone tasted pretty plain, despite all the cola used to make the batter. That's where the topping comes in. Here's the finished product – a large, deep-fried, Coca-Cola, funnel-cake with whipped-cream, cola syrup and cherries: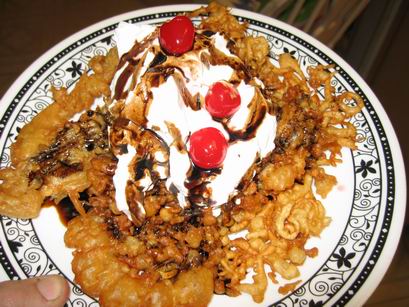 I thought it tasted amazing – but as I've proven again and again, I can have pretty low-brow tastes sometimes. I also love cola-bottle gummies and cola-flavored sour-straws, so I'm probably biased. Unfortunately, most of the people I pushed it on weren't as enthusiastic. That's OK. More for the rest of us.
My next Chanuka posts will get a little classier. They pretty much have to.
¶